An Easter season report from Waterways Chaplains Kim and Paul Hutchinson….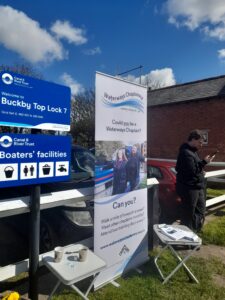 "Over the Easter break, we found out that Channel 4 were filming a new programme called 'Narrow Escapes' which will be shown in September this year. The crew initially asked to film us blacking our boat but were also very interested in Waterway Chaplains and the work we do.
….With this in mind they asked us to organise an Easter event.…We decided on Buckby Locks as a venue as we were passing on the way to the wharf to lift our boat, but especially because fellow Chaplain Helen moors there, and so was very helpful in preparing for our arrival and making local connections.
Helen drove us to buy hotcross buns and Easter eggs with the channel 4 film crew in tow. This wasn't without incident as Tesco withdrew their previously written permission!!!!
The event on Good Friday was great fun, we met a lot of people and had some great conversations. We hope the Channel 4 team got enough footage to show the chaplaincy in a positive light, they were very encouraging and worked hard.
We just chatted naturally and gave away our goods and leaflets while Channel 4 chased everyone to sign consent forms (or decline to be included!!!!) Most people were very keen to agree.
We were exhausted at the end of the day and our faces ached :)"